WHAT PEOPLE ARE SAYING ABOUT PETERSON HOME IMPROVEMENT
My husband and I had a renovation and addition done on our house by Peterson Home Improvement. We had concerns about who we chose to be the contractor due to previous work we had done by other contractors where they didn't show up, and the work was done in a less than acceptable manner, and took a very long time to complete. The job done by Peterson Home Improvement couldn't have gone better from the planning stage to the end of the project. The workmanship was first rate - we had plenty of guidance, and they were extremely accommodating regarding any changes, suggestions, or questions that we had along the way. Ed the owner and Rick the liaison and coordinator on the job were always accessible and knowledgeable to answer any questions along the way. Working with Ed & Rick and the workmen involved was a total pleasure. You can put any worries aside, forget any horror stories that you have heard, and relax knowing that everything will go according to plan and the end result will be even more beautiful than you had imagined. Thank You Much,
Debbie & Gary
Dear Ed, We would like to thank you and your crew for the excellent job you did on our observatory addition. From start to finish, the project went so well and we couldn't be any happier with the final result. It was also a pleasure working with you. Everyone was so courteous and professional and the workmanship was superb. We're very glad we chose Peterson Home Improvement for our project and we would highly recommend you. Thanks again,
Barb & Bob
Ed & Donny, Thanks for everthing ! It was a pleasure doing business with you and your crew . The Kitchen you installed for us exceeded our expectations in every way ~~~ When we are ready to tackle the upstairs ~~~ we'll be looking you up again. Thanks again !
Gary & Leticia
Hi Ed, I just want to tell you how happy I am with the work you did on the apt. The floors look great and I rented it today. Also thanks for the great job on the front steps. Your work is very much appreciated. Sincerely,
Rita T
Hi Ed, Thank you for a job well done! I love my new Windows ------- it's like living in a new house! Your crew is wonderful....... They all deserve a raise. Sincerely,
Laurie Olsen
Dear Ed & Guys, Thanks for a great job repairing our bay window. The replacement job is perfect ~~~ good as new. As always, it was a pleasure working with you. Thanks,
Barb & Bob
Who We Are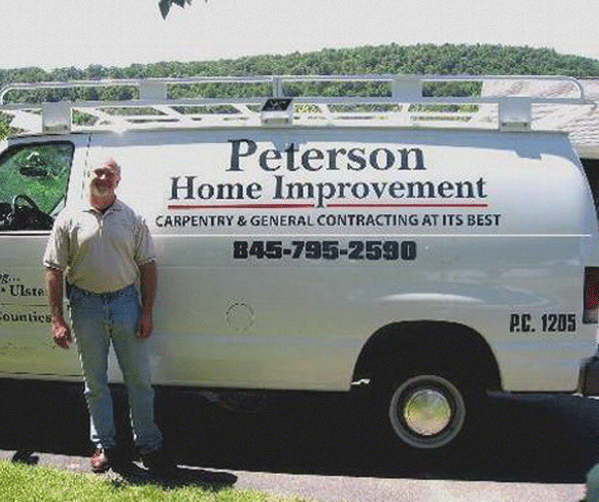 At Peterson Home Improvement, we believe that dealing with a contractor should be an enjoyable experience. When you call our office you will always be met with professionalism and efficiency. We are homeowners too and that is certainly how we would like to be treated. Come on in and meet us. . . . READ MORE
How We Can Help You
Whether you are considering updating a bathroom, finishing a basement, or installing a new deck, Peterson Home Improvement can help. We'll use our knowledge and experience to provide you with options and we'll guide you through every step of the process. Providing good customer service is our normal way of doing things. Let us show you all that we offer. . . .READ MORE
Testimonials
Many of our customers are repeat customers. We believe that speaks volumes. But see for yourself what they have to say about Peterson Home Improvement. . . . READ MORE