HOW TO CONTACT PETERSON HOME IMPROVEMENT
We know you have a household to run, so out of consideration for you and your family (and your neighbors), our normal jobsite hours are 8:00 A.M. to 4:30 P.M. Monday through Friday.
Our office is open from 8:00 A.M. to 5:00 P.M. Monday through Friday.
Peterson Home Improvement, Inc.
116 Milton Cross Road
Highland, NY 12528
Phone: (845) 795-2590
Fax: (845) 795-2287
Email: contact@petersonhomeimprovement.com
We look forward to hearing from you to discuss your project and provide a free estimate.*
*Fees may apply for insurance or lawsuit estimates.
Who We Are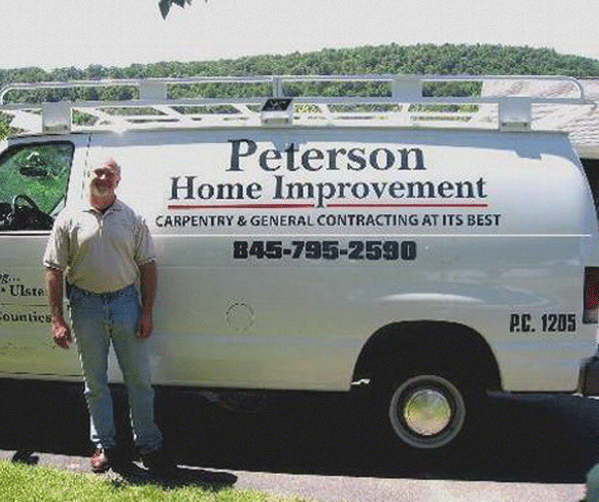 At Peterson Home Improvement, we believe that dealing with a contractor should be an enjoyable experience. When you call our office you will always be met with professionalism and efficiency. We are homeowners too and that is certainly how we would like to be treated. Come on in and meet us. . . . READ MORE
How We Can Help You
Whether you are considering updating a bathroom, finishing a basement, or installing a new deck, Peterson Home Improvement can help. We'll use our knowledge and experience to provide you with options and we'll guide you through every step of the process. Providing good customer service is our normal way of doing things. Let us show you all that we offer. . . .READ MORE
Testimonials
Many of our customers are repeat customers. We believe that speaks volumes. But see for yourself what they have to say about Peterson Home Improvement. . . . READ MORE