HOW PETERSON HOME IMPROVEMENT CAN HELP YOU
Whether you are considering updating a kitchen or bath, finishing a basement, adding a deck or a porch, or replacing old siding or windows, Peterson Home Improvement can help.
Whatever challenges you are facing in your home, we have the knowledge and experience to provide an honest assessment of the problem and come up with multiple solutions if possible so that you have options. We offer energy-efficient choices and give you "green" construction alternatives if that is a priority for you.
We guide you through every step of the process and assist you in choosing quality materials with the help of our trusted partners and suppliers. We even take care of dealing with the engineers and obtaining the permits so you don't have to. And we will keep you posted every step of the way.
We are licensed and insured and we pride ourselves on completing our work in a timely fashion to minimize the disruption that a construction project can potentially bring to your home. There's no need to worry because Peterson Home Improvement has a proven reputation of doing the job the right way from the start and we stand by what we do. In addition to the warranties provided by the manufacturers of the products we select for your project, we also guarantee our work.
Feel free to see why we have a proven reputation.
Who We Are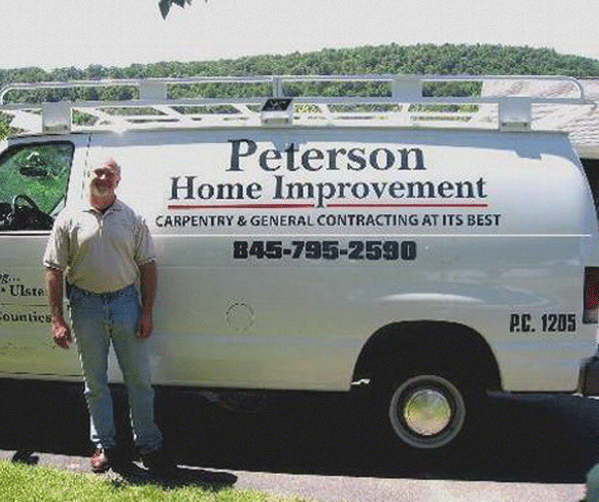 At Peterson Home Improvement, we believe that dealing with a contractor should be an enjoyable experience. When you call our office you will always be met with professionalism and efficiency. We are homeowners too and that is certainly how we would like to be treated. Come on in and meet us. . . . READ MORE
How We Can Help You
Whether you are considering updating a bathroom, finishing a basement, or installing a new deck, Peterson Home Improvement can help. We'll use our knowledge and experience to provide you with options and we'll guide you through every step of the process. Providing good customer service is our normal way of doing things. Let us show you all that we offer. . . .READ MORE
Testimonials
Many of our customers are repeat customers. We believe that speaks volumes. But see for yourself what they have to say about Peterson Home Improvement. . . . READ MORE