PETERSON HOME IMPROVEMENT SERVICES
Here are some of the construction and remodeling projects with which Peterson Home Improvement can assist you:
Home remodeling
Basement and attic renovations
Replacement windows
Siding
Additions, sunrooms, and three-season rooms
Kitchens
Baths
Cabinetry
Decks, porches, and patios
Entryways
Flooring
Custom stairs
Awnings
Garages
Barns
Excavation
Even if you don't see a project in this list that is like the one you are dreaming about for your home, give us a call.
We've done everything from building an observatory for a customer with an interest in astronomy to raising a flood-ravaged house up out of a flood zone with a new foundation after Hurricane Katrina and remediating the flood damage in the process.
If you are concerned that remodeling might take away some of your home's charm, we can incorporate into your remodeling plan ways to preserve your home's character. For example, we were able to preserve the original wood floors while renovating a home originally built in 1834 by carefully removing the existing flooring, reframing the floor joists, and reinstalling the original floor.
Share your vision with us. We would love to help you make your home all that you want it to be.
Who We Are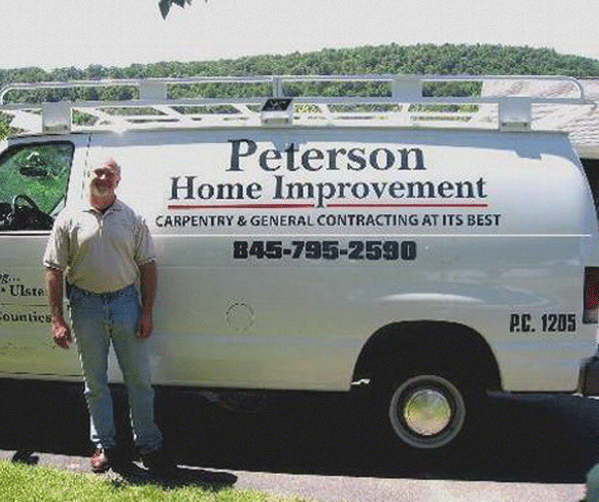 At Peterson Home Improvement, we believe that dealing with a contractor should be an enjoyable experience. When you call our office you will always be met with professionalism and efficiency. We are homeowners too and that is certainly how we would like to be treated. Come on in and meet us. . . . READ MORE
How We Can Help You
Whether you are considering updating a bathroom, finishing a basement, or installing a new deck, Peterson Home Improvement can help. We'll use our knowledge and experience to provide you with options and we'll guide you through every step of the process. Providing good customer service is our normal way of doing things. Let us show you all that we offer. . . .READ MORE
Testimonials
Many of our customers are repeat customers. We believe that speaks volumes. But see for yourself what they have to say about Peterson Home Improvement. . . . READ MORE